I am so excited about Loretta Lynn's new album. She's still a mountain girl and so am I. You see, the reason I love Loretta Lynn so much isn't because I like country music. It's because she and I were both born and raised in Kentucky. I'm the grand-daughter of a miner and well, as you know, she's the daughter of a coal miner too. If you're wanting media coverage for yourself, business or project, start with where you're from. Local media always seek local media stories.
Not only are local media seeking local media angles, celebrity and politicians' places of birth are often headlines in national news.
When my PR firm, Wasabi Publicity takes on new clients, we always ask in client intake calls, "Hey – where ya from?" My Kentucky accent is peppered with professionalism and better grammar (hopefully). The reason we ask this is because media will ask us that. Media love to profile local people in their circulation's geographic reach. We even ask about high school, college and more. Media want a feel-good story about a local profile doing good things in the world.
So, if you're looking for low-hanging fruit for your media pitching and coverage, don't neglect the local media venues looking for an inspirational story about you.
Here's mine with the Cincinnati Enquirer when I was living in Cincinnati.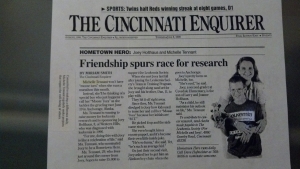 I moved back to the mountains, though, after living in Cincinnati for five years. Like Loretta, we're still mountain girls. You never forget from where you hail. Remember that, Chief.